Our success story, from labour immigrant to one of the largest training providers in Europe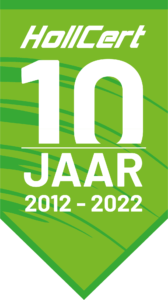 In September 2022, Hollcert will celebrate its 10th anniversary. In recent years, the education and training company has become one of the largest multilingual training locations in Europe. But it is also the success story of a labour immigrant who came to the Netherlands 12 years ago.
10 years Hollcert
Mateusz Boczkowski came to Holland from Poland in 2010. He started working in the distribution centre of a large parcel service. "I was offered a forklift course, but it was only available in English. That wasn't a problem for me, but I immediately wondered why the course wasn't available in more languages. But my instructor offered to create a Polish version if I would help him. That was actually the beginning of Hollcert," says Boczkowski. "Initially, I helped with the training as a translator. But I saw that there was a great need for training for Polish migrant workers. That led me to start my own company in 2011. Rick Wigman – Owner or Romaxi Holding BV – helped me do that. Initially, I operated under my own name. But in 2012 it officially became Hollcert."
> > 6,000 course participants per year
Today, Hollcert is one of the largest multilingual training centres in Europe with > 6,000 trainees annually – 80% of whom are Polish. The company started in Nederweert but moved to Waalwijk after a while. "A logical choice due to the many logistics companies in that region. There is also a branch in Eindhoven." Some 12 trainers provide training at these locations seven days a week for forklifts, heavy equipment, aerial work platforms, VCA-B and BHV, among other things. Most of these take place in Waalwijk.
Own vision on training
Concentrating on one large location fits in with Boczkowski's own vision on training. "This way, we can really provide training seven days a week," he explains. "In addition, there is more equipment available so that candidates can do more practical hours." The training courses are also always adapted to the trainee's level. "That is why we deliberately do not offer e-learning. That way we can really deliver customised work. In principle, all training courses last one day. But if we see that someone picks it up quickly, he or she can even obtain several certificates in one day. That is only possible if the training courses are centralised and adapted to the trainee!"
Family business dream
Hollcert has now been in existence for ten years and Boczkowski is mainly looking ahead. "I would like to grow further and become more professional. I ended up in this business by chance. Without the help of Dutch friends, mentors and my family, I would never have come this far. I hope it will remain a family business. My wife and brother now work in the organisation, and secretly I hope that my children will do the same later on. In any case, I still enjoy teaching people every day and contributing to a safer workplace. Really, I do that seven days a week. With heart and soul."
Want to know more about Mateusz? Click here to get further acquainted