Meet Oliwia - Back office assistant
Oliwia joined Hollcert full-time as a back office assistant in spring 2022. After years of experience as a sales, production and warehouse employee, she was ready for a new challenge. Mateusz offered her this opportunity.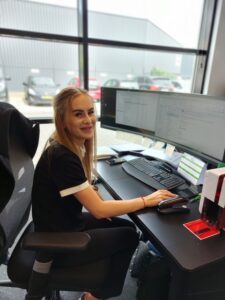 Can you tell something about your career so far?
As an 8-year-old girl, I came to the Netherlands with my parents and sister. Right from the start, I followed Dutch education. I remember that we were immediately helped very well at school. After secondary school, I started training to become a dental assistant. That turned out not to suit me after all. Fortunately, I was able to start the BBL training as a sales assistant. I combined that with working in a flower shop. After successfully completing the course, I worked as a production assistant for a short time. The last four years before I started at Hollcert, I was a warehouse assistant. This gives me a good idea of the logistics sector.
Hollcert is multilingual, did you have experience with that?
Yes indeed. At school I learnt Dutch well, at home we kept speaking Polish, and later in high school and while working in the warehouse I learnt English. With my family, some of whom live back in Poland, I still speak Polish. Dutch I obviously speak with friends and while shopping. English I also speak at work, besides which I like watching films and documentaries on Netflix. Especially English, although I can also appreciate Spanish films.
What is the transition to an office job like for you?
I like that very much.
It's very different from working in a warehouse.
Sitting still in front of a computer all day certainly took some getting used to at first.
I enjoy speaking to and helping customers, whether they are private individuals or companies, in Dutch, Polish or English.
I have also found my niche in the administrative side of things.
Actually, I enjoy all parts of my job.
I am grateful that Mateusz offered me the opportunity to make the transition to Hollcert.