Meet Robert - forklift truck trainer
Robert started at Hollcert as a weekend help next to his job as a forklift driver in the warehouse. After 18 years of experience as a forklift driver, he joined the Hollcert team as a full-time trainer on 1 July 2022. On Mondays and Wednesdays, he is free and follows a Dutch language course.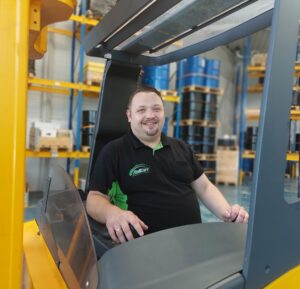 How did you end up in the Netherlands?
This goes back to my student days. At that time, military service was still compulsory in Poland and employment was very limited. I was faced with a choice:
Finish my studies with a very small chance of finding a job + do my military service
Follow my brother's advice and go to work in Ireland and earn money
My brother was already working in Ireland and so I took the plunge and travelled to Ireland. From 2005 to 2009 I worked in warehouses in Ireland. In addition to being a truck driver, I was also responsible for registering sensitive information. Many of my clients were banks. In Ireland, I not only gained a lot of experience with various trucks, but also learned the English language well and how to be discreet.
The distance to travel from Ireland back to Poland started to take its toll. I knew someone who worked in the Netherlands and that worked out well. So in 2009 I decided to travel to the Netherlands.
How did Hollcert come your way?
Things were immediately well organised in the Netherlands with regard to work and accommodation. I didn't want to be dependent on my employer, so I heard about Hollcert through others and got my certificates there as a private person.
Later I met Piotrek and Gucio (2 colleague trainers at Hollcert) and through them I came into contact with Mateusz. And I started working as a weekend help at Hollcert.
What do you notice about candidates?
At the moment, I do not speak Dutch well enough, so I only train Polish- and English-speaking candidates. At the weekend, candidates regularly come directly from Poland. Their luggage is then in our office during the training. They have had a long journey by bus and are often stressed. They are often insecure because they pay for everything themselves and lose a lot of money if they don't make it. They are also not always sure whether they will get a job. The expectations are not always realistic. People sometimes think they can get a certificate in 5 minutes.
At Hollcert, we all feel strongly responsible for the safety of all candidates. Both with us during the training and afterwards with their future employer. Candidates will only succeed if they have the basics under control and we are confident they can work safely.
What do you get satisfaction from as a trainer?
Reassuring candidates is an important part of our job as trainers. It is great to see how when weight is lifted from their shoulders and they can focus better on the training. If candidates listen well, you can see them improve step by step throughout the day and become more familiar with the truck. When I tell them at the end of the day that they have passed, their faces light up. That result is the best reward and makes me more then happy.
Is it the same with experienced candidates?
The nice thing about experienced candidates is that they think they know everything and do it well. In reality, they often make the most mistakes. There are ingrained patterns, which makes it a nice challenge to break these and to make the candidates realise that things can be done differently / better.
What is Hollcert's success in your opinion?
I think the biggest success is the good name and reputation among Polish migrant workers. The team has built this reputation in the last 10 years. Something we can all be proud of.
We heard that you met your wife in the Netherlands?
Yes, that is correct. After working hours I would sometimes visit a Dutch pub. In 2015 I was approached by one of the regulars that she knew a Polish woman who had just arrived in the Netherlands. Whether I wanted to get acquainted to help her find her way around. That acquaintance immediately turned into a nice conversation. Coincidentally, I am from Prudnik in Poland and she lived 300km away and had recently been to Prudnik for business. In 2019 we got happily married and are now the proud parents of 2 children.
How do you look to the future?
Very positively. We hope that our children will be able to study in the Netherlands. As soon as the children are independent, we will probably emigrate back to Poland. It is also my dream to enjoy my retirement and the "slow life" in South East Asia.